Doll Options and Functions
At BBDoll, you can customize your realistic sex doll with many options and preferences. If you are new to sex dolls, you may feel confused about these elements. For example, What is the difference between Silicone and TPE? 
Silicone has absolutely no odor, TPE will more or less smell of gum or added fragrance. If it smells very fragrant, customers who are allergic to perfume are advised not to start. At BBDoll, all sex dolls are made of Premium Silicone, which is Food grade silicone and the same material as baby's nipple and kitchen spoon, so it is safe to kiss our real silicone sex doll.
---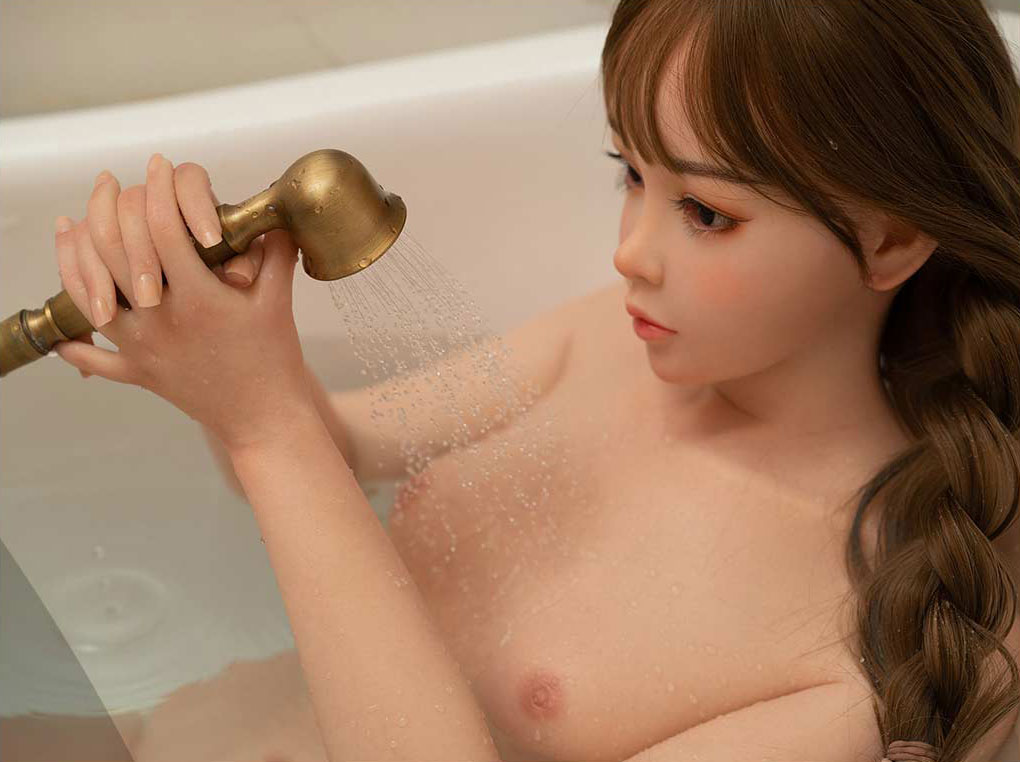 Initial cleaning
Rinse with clean water to wash away the surface
dirt.
Note: Only use water at a temperature lower than
38 degree centigrade to prevent damaging its
product life and elasticity.
Deep cleaning
After rinsing with clean water, apply body wash orhand sanitizer to the surface of the doll, rub and wash it.
Wipe and dry
Wipe the surface of the doll with a dry towel and it needs to be completely dried off, avoid using hair dryers as these can be damaging.
Apply talcum powder
After cleaning and drying, you need to use talcum powder to smear the whole body. The product has been coated with talcum powder before shipping.
43 Joint Alloy Frameworks and Maintenance
Although enough postures can be achieved, you are not supposed to put extreme force to move her joints for any position.
Don't leave her in the same position for a too long time, not even leaving her lying on a hard surface for long.
Clean the body regularly with mild antibacterial soap and warm water.
Use a water-based lubricant during sex.
Extra Sex Doll Heads, Top Silicone Heads
Indulge in the exquisite beauty of our adult silicone sex doll's premium silicone heads. Crafted with meticulous attention to detail, these lifelike heads offer an unparalleled level of realism and sensuality. Made from high-quality silicone, they provide a soft and realistic touch, enhancing the immersive experience with your companion. Our collection features a variety of stunning facial expressions, captivating eyes, and luscious lips, allowing you to customize your doll to match your preferences and fantasies. Immerse yourself in a world of pleasure and companionship with our stunningly crafted silicone doll heads, designed to fulfill your deepest desires. Explore our range today and embark on an unforgettable journey of intimate satisfaction.
BBdoll is a reputable e-commerce company specializing in the production and distribution of premium-quality silicone doll heads. Meticulously crafted with lifelike precision, their doll heads are made from top-grade silicone material, ensuring a realistic and authentic appearance.
The BBdoll website offers an extensive selection of silicone doll heads, featuring various sizes, skin tones, and facial features. Each product page provides detailed descriptions and high-resolution images, facilitating easy selection and customization according to individual preferences.
In addition to the wide range of doll heads, BBdoll offers accessories and customization options to enhance personalization. Customers can choose from different eye colors, hairstyles, and makeup styles, allowing for a completely unique and personalized doll head creation.
BBdoll is dedicated to customer satisfaction, exemplified by their hassle-free return policy for products that don't meet expectations. With free shipping on all orders, they ensure prompt and cost-effective delivery.
In summary, BBdoll is a trusted e-commerce destination for high-quality silicone sex doll heads and accessories. Their commitment to detail and customer happiness establishes them as a premier choice for those seeking lifelike silicone doll heads.